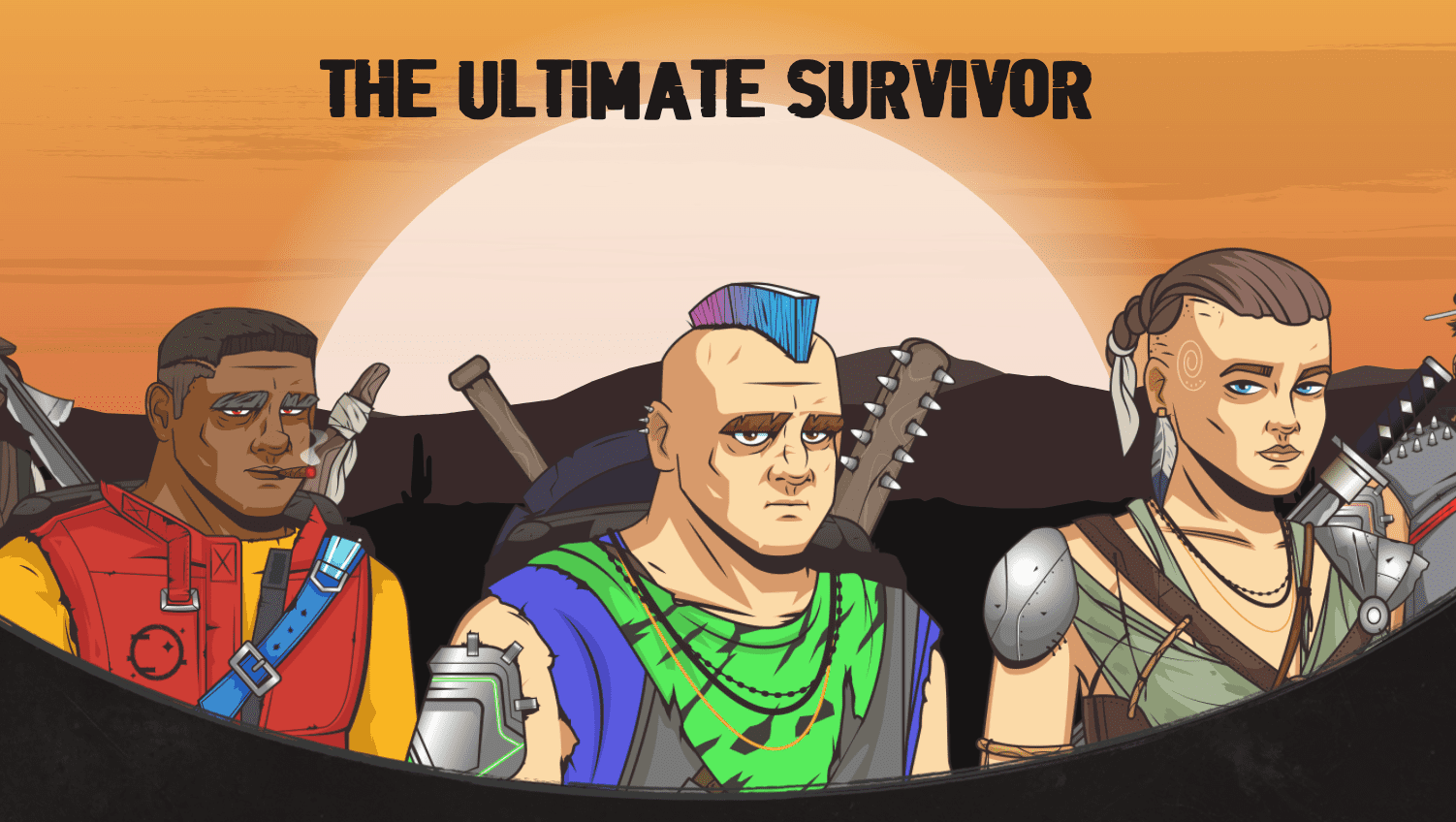 Let's jump into this game-themed Ethereum project! This project sets itself from the pack. Each survivor gets a survival kit with free shipping, a chance to win an e-bike after each community is minted, and a chance to win the ultimate survivor truck worth $120,000.
80% of royalty fees will go to survivors, the ultimate survivor NFTs in the play-to-earn game that will be released later, and holders will get in-game tokens through airdrops.
The developers stated that the community will decide which organizations fighting global warming and pollution will get donations. According to their roadmap, you will definitely benefit if you join them.
The Ultimate Survivor is definitely one of the best upcoming projects on Ethereum this January. Visit their Website, Discord, and Twitter for more information and get a feel of their community.

Some quick facts: This project is led by two very experienced founders: Tamas Moroz from MRZ.design, who is the head designer, and Marius Martocsan as the project manager. The whitelist was opened on 1st January 2022. You can find details on how to get on the whitelist on their discord. The project is going to be minted on Ethereum blockchain and listed on OpenSea. Minting for those on the whitelist is scheduled for 28th January at a discounted price of 0.07ETH with a maximum of 3 survivors per wallet. The public sale will be on 29th January for 0.09ETH with a maximum of 10 per wallet.
The project will have 9738 unique survivors (NFTs). 2756 survivors will be minted first. The rest will be minted at a later date to be announced. The project has four artists, who have designed 100 survivors each, so you can expect the artwork to be very diverse.
Among the many reasons why this project is unique is one of the most outstanding benefits: utility outside of the online world! People who mint survivors will be shipped survivor kits, which is totally surprising. As you may know, NFTs that have utility in real life are very attractive, because apart from owning an NFT, there's something you can do with it in the real world. For example, GaryVee's VEEFRIENDS collection provided real-world utility in the form of tickets to VEECON, a conference he intends to hold.
THE STORY
The story is based on a world-ending event that is triggered by an asteroid hitting the earth. After the asteroid hits, it throws everybody into restlessness and disrupts the normal way of life everybody is used to. People now have to remain indoors and wear masks. A virus that makes people aggressive and violent causes people to start killing each other, and some even start eating human flesh. The government swoops in and starts bombing people. Life as it used to be is only a memory…and in the midst of all this, survivors emerge. Are you going to be one of them?
Read also: Things you should know; How to Spot Fake NFT in 2022?
ROADMAP
The project started in December and has so far stuck to the roadmap. Currently, the ongoing work is focused on promoting the project, and whitelisting early members while getting the minting page ready.
REMINDER: Presale is on 28th of January at 0.07ETH. Maximum 3 survivors per whitelisted wallet, and there will be 1000 maximum survivors minted. The public sale is on 29th January at the price of 0.09ETH maximum of 10 survivors per wallet, till they reach 2756 survivors.
Each survivor minted will have a chance to win an e-bike at every raffle. The first 5 Sun Ron e-bikes will be distributed as follows: 1 after 500 survivors are minted, 1 after 1000 survivors, 1 after 1500 survivors, 1 after 2000 survivors, and 2 after the first 2756 are minted. The Ultimate Survivor truck raffle will be held after all the communities are minted. Each mint earns you a chance to win.
---
Survivor kits will be awarded per wallet and as soon as the first 2756 are minted, shipping starts. For the other communities, as soon as their minting is done, shipping of the survivor kits begins. After minting, survivors are expected to provide the team with a shipping address and expect delivery within 2 months.

After the first 2756 are minted, minting of the other 8 communities will begin. Each community will be minted when the last one is finished.
MOST IMPORTANT GOAL: The team is planning to launch a play-to-earn game after all the communities have been minted to allow everybody to participate in development.
THE TEAM
The team behind this project has been doxed. While the whole team is crucial in the development of the project, the two main founders are Tamas Moroz from MRZ.design, with the role of head designer, and Marius Martocsan from Deladi Software SRL serving as project manager. Both have vast experience in their crafts. Marius built a vast gambling community in Romania, while Tamas has been designing mobile games for 6 years.
This is very positive about the project. Their team is fully doxed on their website, so this is making the project both transparent and very promising.
Here are their social media links below:
SURVIVOR 6: Maurius Mortoscan AKA survivor 6 – check his profile on LinkedIn.
MRZ: Tamas Moroz AKA MRZ check out his profile on LinkedIn.
S-BINA: Balog Szabina AKA S-BINA check out her profile on LinkedIn.
G-URMA: Gyarmati Tamas AKA G-URMA check his profile on LinkedIn
BOTEE: Botee is a designer and motion effect artist. – NO LINK
CHICO: Chico is a programmer and is in charge of programming the project. Mihai Haloiu AKA CHICO check out his profile on LinkedIn.

RARITY
The list of attributes includes background, gender, skintone, body type, outfit, eyes, nose, mouth, headwear, and weapons.
80% of the survivors will be common. Survivors with many rare items will make up 20% of the total. There will also be 27 ultimate survivors. Of this, the founders will have 6.
The team will also mint 50 legendary survivors, who will draw and mint 100 unique NFTs that will include post-apocalyptic animals, cars, landscapes, and more.
Read also: How to Transfer NFT to Another Wallet
CONCLUSION
This project is one of the best projects on Ethereum this January. By minting, you're eligible to win a $120,000 survivor truck and 30 e-bikes. You will be sent a survivor's kit with free shipping! Furthermore, they have a play-to-earn game coming up. 80% of the royalty fees will go to survivor holders. The ultimate survivor NFTs hold value in the play-to-earn game, and holders get in-game tokens through airdrops.
On top of that, you get a chance to save the Earth, as the project will be making donations to organizations fighting global warming and pollution. Minting starts on 28th January for those on the whitelist and 29th for the pre-sale. You can also mint from your phone – just make sure you have downloaded the Metamask app loaded with the mint amount, plus gas fees.