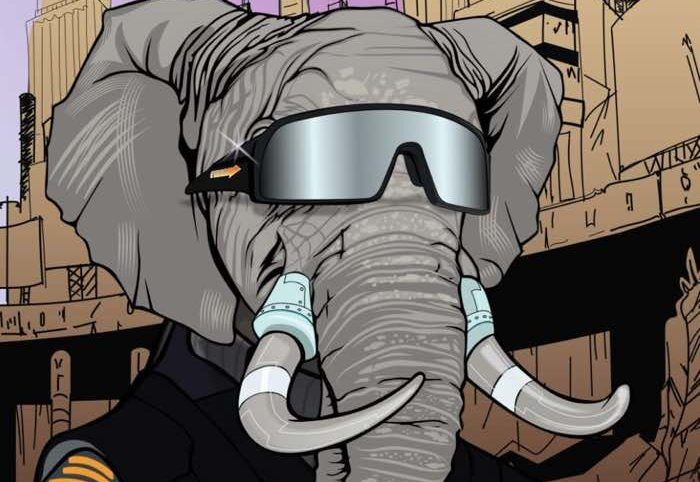 A top 5 Solana NFT project launching in January, 2022.
The LPBC NFT project is one of the best upcoming Solana NFT projects in January 2022 for many reasons, including their unique value proposition and their award-winning artist. The notable aspects of this NFT project include the art, future-focus, and real-world value. Each NFT project has its own angle and value proposition, but there are some exciting surprises built into this one.
Important: Mint of LPBC is LIVE at the moment! You can check out their DISCORD, WEBSITE, and TWITTER and mint immediately. Be aware of any scam links. We recommend you to click only on links that are posted in their #announcements channel on Discord, their Twitter or official website! Hurry up before they sell out!
LPBC stands for… We don't know! They'll reveal what their name stands for when the project is 75% sold and have mysteries built into their project to keep things exciting. Until they tell us, let's look at the cool things we DO know.
The down and dirty details:
MINT PRICE: 0.5 SOL
MINT IS LIVE HERE: https://lpbcmint.vercel.app/
SPECIAL UTILITY: Unique real-life business partnership.
Art
The artist for LPBC is a print-maker turned graphic designer from Cuba named Yordanis García Delgado and the style has a catchy, almost street-art vibe. Each image has unique characteristics, adding to the excitement around the project. There is a hip, timely feel and several images have robotic, Matrix-like accents in the image.
Economics
There are 2500 tokens, broken down into 5 different animal categories: lions, cats, parrots, elephants, and pit bulls. While not ultra scarce, the supply isn't over ambitious (like 10k projects sometimes are), which is a huge plus.
The main, revolutionary benefit:
This project has a future-focus and is not a short term cash grab. It's actually a membership into a club and that includes partial ownership of a restaurant in Las Vegas, run by award-winning icons in the culinary industry. You can find a detailed business plan that explains the project's involvement here.
Team
This project is unique in that in addition to the founders and the artists, there's an actual, real life business heavily associated with the project. We'll start with the NFT project's team (in addition to the artist, Delgado) and then take a look at the business side.
Important: Mint of LPBC is LIVE at the moment! You can check out their DISCORD, WEBSITE, and TWITTER and mint immediately. Be aware of any scam links. We recommend you to click only on links that are posted in their #announcements channel on Discord, their Twitter or official website! Hurry up before they sell out!
LPBC TEAM:
"Metamanuni" is one of the founders who has both experience in the restaurant business (the restaurant he works with is currently working to open their third one!) and focuses on management and employee training. This knowledge of both team development AND restaurants gives him an educated perspective with which to lead this project in its early stages. He's also been creative director for many brands and ran his own e-commerce business for several years, which will be key experience to draw from when the project launches a merch campaign.
"Astrohawsh" is another founder and works in a celebrity affiliated industry, so his professional network may come into play with this project. He's big into charity and is an artist himself, so he's looking for ways to incorporate both passions into the project.
"Floride" is the developer and is passionate about bringing more artists into the NFT space. He's got a large network of graphic designers and is encouraging collaborations.
"Crytojesus" is the lead marketer and runs a page that draws a lot of attention in the crypto world. He has connections among many projects, taking his knowledge of the industry and using it to help them succeed.
And last but not least, Yordanis Garcia Delgado is the main artist for the project. Delgado has a fine arts degree and a degree in graphic design from Cuban universities and is a professional artist. He has experience in the NFT world, has won several awards, and his work is housed in some of the most prestigious collections around the US.
Read also: New NFT Games Coming Out in 2022
RESTAURANT TEAM:
The boots on the ground in the restaurant are just as important as the NFT and virtual aspects: without a successful restaurant, this project can't achieve its full potential. Luckily, the husband and wife team running the restaurant portion is STACKED.
Alessandra Madeiro is the head chef behind the project and she knows what she's doing. She's currently the pasta curator for Esther's Kitchen in Las Vegas and is Carla Pellgrino's sister. Her recipes have won 7x Best of Henderson Awards and 2x Best of Las Vegas awards. Having her on the team is a HUGE asset and will ensure quality food at the restaurant.
Walter Ciccone is Alessandra's husband and is in charge of the operations side of the restaurant and is well suited for it. He's worked as general manager under Frank Pellgrino Jr. at an NYC restaurant on Wall Street and now is GM for Carla Pellegrino's Bratalian in Las Vegas. With over 20 years in the business, he knows how to make a restaurant successful.
A strong reputation in the culinary world will be vital to ensuring the restaurant's success, even without the crypto spin on the restaurant. Both Alessandra and Walter have expressed excitement over this new venture and are working closely with the team to (hopefully) allow SOL to be used as payment in the restaurant. Being associated with an up-and-coming chain like Solana will accelerate the restaurant's marketing and notoriety, making it a "destination place" in Las Vegas.
Roadmap
You can find the full, detailed roadmap here, but here are some eye-catching highlights:
$10,000 donation to Make a Wish Foundation when 25% of tokens are sold.
Airdrop of following collections to OG token holders.
Restaurant (which project DAO ends up owning 20% of) grand opening by Q3.
One of our favorite parts about this project is the charity-focus. Not only is charitable giving a core value of one of the founders, one of the first things on the project's agenda is to give away a significant percentage of their proceeds immediately to less fortunate children. A strong purpose is always a good sign in a project.
Ongoing value and a future focus is also a good sign. LPBC plans on adding value in multiple ways, the first one being additional tokens sent to original token holders. As the project gains popularity and notoriety through its marketing efforts and the restaurant, the tokens may appreciate in value. Airdropped tokens may allow OG holders to sell them and profit while still remaining members of the LPBC family and continuing to hold their series 1. Knowing this project's focus on value, additional tokens may have extra utility as well, which is an exciting thing to think about!
Holders receive 50% off of food AND drinks FOREVER at the restaurant, as long as they have their token. And the 20% ownership could mean cash flow or other perks for original holders. As the business succeeds, the tokens should become more sought after, which could make them more valuable. Having a real-world side of the token is a whole new hedge to the risks typically associated with NFTs.
Can't make it to Las Vegas? Don't worry. The Metaverse is being built as you read this, and LPBC has plans to build a virtual restaurant there. Even if you can't take advantage of the actual restaurant, you'll still get some virtual perks!
Get listed on our upcoming NFT project calendar here.
Utility
The utility aspect of LPBC is quite unique: we've yet to find another project with such an interesting value proposition. The idea of part-ownership in a Las Vegas restaurant (LV is a hub of tourism, entertainment, and gambling) has potential to provide huge value. Most people travel to Vegas either for business or to have a good time, and either way they gamble. The psychology of the place lends itself to people trying something new, which may make it easier for mainstream individuals to experiment and embrace crypto.
As the restaurant succeeds, it could become a symbol for the whole blockchain of Solana and interest and notoriety of the project will grow.
There's definitely a lot to love with LPBC (which we can't wait to find out the meaning of), from the mystery of it to the integration with a real-life business. It's this well-qualified team and future value focus that make this one of the best upcoming Solana projects of 2022.